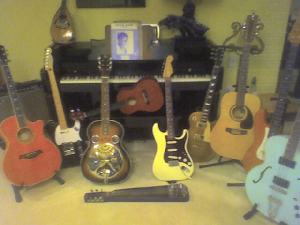 Through our work with F-Hole Music we specialize in the composition and production of guitar-based soundbed and source music for film, television, radio and sound libraries, as well as songwriting for artists in a host of genres. We are well versed in American roots based music including blues, rock, reggae, surf, punk, and country. In the words of the late Johnny Cash, "Nobody's safe."

For more information, please visit F-Hole Music. Click here to hear sample audio files at Taxi.com/fholemusic

For information about their soundtrack to the independent film Kicking Bird by Kelley Baker/Angry Filmmaker Productions, please visit the Angry Filmmaker site. Don Campbell also records and performs with D.K. Stewart & the DK-4. For more information about the band and performance schedules, visit them at www.dkstewart.net and at www.myspace.com/dkstewartanddk4.